Valentine Group has created award winning campaigns for a wide diversity of clientele. A sampling of those efforts for previous clients follows.


Retail/Fashion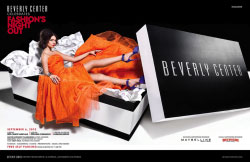 FASHION'S NIGHT OUT:
FNO 2012 was an amazing night of red carpet strutting celebrities, fashion shows, book signings, and much, much more. With the attendance of more than 30,000 guests, the epicenter of FNO, Beverly Center, was host to celebrities, VIPs, and numerous onlookers. Pretty Little Liar's Lucy Hale, Kendall, Kylie, and Kris Jenner were front and center for this event. Valentine Group's direct involvement in FNO 2012 increased the attendance rate of celebrities in comparison to past years as well as secured 1.5 billion media impressions and editorial coverage including Entertainment Tonight and Xhinhua New Agency.
www.beverlycenter.com

Sofitel Hotel Los Angeles Patio/Bar Launch:
Sofitel Hotel LA at Beverly Hills is in the upper echelon of Los Angeles hotels, with stunning interiors featuring French design and Hollywood glamour. The unveiling of the Sofitel's breathtaking patio not only reinforced Sofitel's dedication to beauty and quality but also showcased the hotel's passion for healthy fine dining by featuring dishes from the new De-Light menu, a sumptuous low calorie cuisine. Valentine Group secured a guest list exceeding 300 attendees including super model Kelly Emberg and actress Sofia Milos among other notable celebrities, VIPs and patrons for the gala opening. As a result of Valentine Group association with this event, Sofitel Hotel Los Angeles's Patio Launch was featured in dozens of media outlets including media partner Genlux Magazine.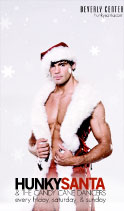 BEVERLY CENTER LOS ANGELES A TAUBMAN PROPERTY:
The Holiday Tourism Campaign, Hunky Santa, launched at POW WOW 2008 kickoff included and subsequently began with September of 08 an audition phase, punctuated with Black Friday promotions on November 28th, and concluded on December 24, 2008. The campaign was intended to bring a youthful/purely L.A. touch to the traditional Classic Santa offering and holiday theme while attracting local, national, and international media attention and traffic. Print circulation compilation was 117,568,241 valued at $112,736.00. Broadcast came in at 21,874,813 media impressions valued at $990,260.70. The franchise continued in 2009 garnering coverage on "The Today Show", "Newsweek", and ABC's "Good Morning America".

DESIGNER RICHARD TYLER COUTURE FOOTWEAR:
Valentine Group delved into the fashion world with a multi-layered year-long campaign for The Fashion House - a design, manufacturer, and licensee for women's designer footwear that included the Richard Tyler Couture and tyler.by Richard Tyler shoe lines. Valentine Group secured coverage in popular domestic arenas that included InStyle Weddings, O, The Oprah Magazine, Entertainment Weekly, Real Simple, Footwear Plus, WWD, and TV Guide. Coverage of the in-demand shoe line also reached the television screen in fashion segments of the highly-rated Entertainment Tonight, The Insider, and Tribune Broadcasting's KTLA 5 Morning News. The total circulation and media impressions for all press secured for the client surpassed 30,000,000.

Additionally, product placement and alignments with celebrities included Desperate Housewife Eva Longoria, thespian sisters Michelle and Dedee Pfeiffer, Sandra Bernhard, Vanna White, and Warner Brothers' starlets Sophia Bush and Emmanuelle Vaugier. In addition, the construction and design of a new website for Richard Tyler Footwear and The Fashion House was supervised by the agency -- www.thefashionhouseinc.com
Hospitality
SANTA MONICA, CALIF. CONVENTION AND VISITOR'S BUREAU:
Valentine Group launched a year-long campaign for this favorite California destination. The campaign focused on media relations - both international and domestic - which brought press to the city on junkets to tour attractions and sample the beachside community's hospitality and amenities. International press which participated in junkets included journalists from England, Malaysia and Australia. Valentine Group also secured coverage for the city of Santa Monica in publications such as Boston Sunday Herald, California Homes, CNN Money, Los Angeles Daily News, Los Angeles Times, Wall Street Journal, London Sunday Times, New York Times, and Sacramento Bee. Valentine Group ended this campaign with more than 700 media placements and a circulation that reached an audience of 160,000,000. www.santamonica.com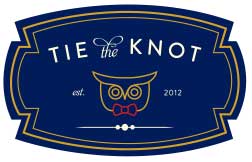 Tie The Knot Pop-Up at the Beverly Center
VGPR introduced the first ever debut of a brick & mortar location of online non-profit retailer, Tie The Knot. The campaign was intended to align Celebrity Founder and Emmy Nominee Jesse Tyler Ferguson in a Beverly Center "Pop-Up Store" campaign and hit TV show, Modern Family, red carpet opening with fellow cast members, such as Sofia Vergara, Ty Burrell, Sarah Hyland , out NBA star - Jason Collins, and more. As a result of this first ever Pop-Up, the coverage garnered 112,351, 161 impressions and $2,900,215.11 estimated PR value that included GMA, Conan, LATimes, E News, Daily Mail, People, and On The Red Carpet. Social Media impressions that brought in measured 3,290,153. www.tietheknot.org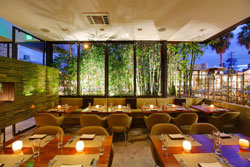 The Tasting Kitchen:
Valentine Group launched a campaign that lead to Daily Candy's "Pick of the Year," as well as, a rave review in the Los Angeles Times food section by restaurant critic Irene Virbila.
Health/Beauty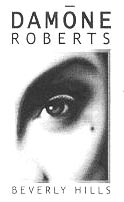 DAMONE ROBERTS BEVERLY HILLS:
Valentine Group created a campaign for the self-professed "EyeBrow King" and celebrity grooming salon owner that included domestic and international outreach, New York press junkets, and Beverly Hills salon promo events. The results included a profile on Access Hollywood, coverage in Los Angeles Times Magazine, V-Life, W Magazine, L'Uomo Vogue, London Financial Times Weekend and more. A Bryant Park Hotel suite in Manhattan was the site of a successful press junket where the room was transformed into an eyebrow sculpting salon complete with Bacardi cocktails. Valentine Group hosted editors from New York Post, USA Today, Jane magazine, NY1 News, and 20 other media outlets booked every 20 minutes to sample the client's products and services.

On the west coast, "Guy Brow" nights were the order of the day when girlfriends and wives brought in their husband's unruly brows to be tamed by the master, Damone Roberts, at his Beverly Hills shop. Local ABC news came out to capture men, cocktail in hand, getting waxed and groomed. www.damoneroberts.com
Non-Profit/Entertainment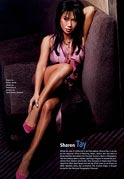 ENTERTAINMENT NEWS ANCHOR SHARON TAY:
Valentine Group represented previous Tribune Broadcasting KTLA morning news anchor (Los Angeles) and Emmy winner Sharon Tay for media outreach and with an appearance schedule that resulted in both domestic and international coverage. The efforts of Valentine Group landed Ms. Tay on the pages of Razor magazine, Los Angeles Times and the Singapore Sunday Times. It was Tay's spread in Razor magazine that grabbed the attention of executives at 20th Century Fox and NBC, where she eventually accepted a job to work with NBC television and programming mogul Jeff Zuker as a host for MSNBC's "Hot List" and "MSNBC at the Movies," www.sharontay.com


Click to view a recent media placement for a client on Oprah.

For a full list of industry experience - Download PDF.