PAST CLIENTS:

CURRENT CLIENTS >>


ZANDRA RHODES Handbags:
Zandra Rhodes's Spring/Summer 2007 show in the fall of 2006 marked the debut of a new handbag line, ZANDRA RHODES Handbag Collection on the catwalk during London Fashion Week to favorable media reviews. Many journalists claimed her vibrant designs and place in fashion is as solid now as it ever was. 2007 is a year of further expansion for Zandra who put London fashion on the map of the world during the London "youth explosion" of the 1960s. She designs a fur collection for Pologeorgis in New York seen in Neiman Marcus, Saks Fifth Avenue, and Bloomingdales and her collaboration with Girari Design will bring her accessories to the market. www.zandrarhodeshandbags.com




NEOPORTE Modern Doors:
Neoporte's Kenneth Hepburn, a former sculptor with a fascination for metal fabrication, delivers a unique line of stainless steel doors for the home. The fluid design addresses modern to classic architecture and fulfills a variety of construction needs. It's a green product endorsed by the U.S. Green Building Council that is impervious to extreme environmental conditions and security breaches. www.neoporte.com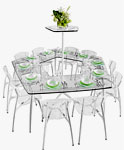 Girari:
Girari has been designing and manufacturing contemporary furniture for commercial, hospitality, residential, and entertainment industry installations for more than a decade. Founded on a green platform of using sustainable materials, the furniture line in a variety of configurations is prevalent in homes, restaurants, office buildings, and on the set. In fact, it was movie and television production set decorators that convinced President Darryl Aken to launch the Girari Sustainable Event Furnishings line. www.girari.com




JUNIOR DRAKE HANDBAGS:
From downtown Los Angeles, to China, and most European design meccas in between, is where Founder Tgia finds inspiration for these ultra, uber soft leather hand bags that are flying off the shelves at Nordstrom's. Clients include Sharon Stone, Tyra Banks, Geena Davis, Queen Latifah and more, visit www.juniordrake.com

BETWEEN THE SHEETS:
An upscale bedding and linens boutique chain with their newest location on the trendy Robertson Blvd in West Hollywood--- first to market the 1,020 thread count sheets (furnishing used in Oprah Winfrey's Telluride home), Between the Sheets also carries an unparalleled merchandising mix of goods procured from Switzerland, Germany, India, Asia, and all of Europe. www.betweenthesheetsinc.com



Costume Designer Gamila Smith:
Stylist for the WB movie "Must Love Dogs," starring Diane Lane and John Cusack. Gamila is also costume designer of Fox's hit summer show, "So You Think You Can Dance" and "Are You Smarter Than A Fifth Grader."




Kevin Sands, Beverly Hills Cosmetic Dentist:
This TLC TV's "Glam Squad" cast member ("Ten Years Younger") has also appeared on the hit E! show, "Dr. 90210." Clients include the Olsen Twins, Britney Spears, Charlie Sheen, Tori Spelling and others, visit www.90210dentist.net .
Lifesource Water Whole House Filtration System:
A natural filtration system for the "whole house" that is not only considered a luxe product for the elite but an essential home water appliance for kitchen, bath, landscape, laundry room, garden and pet maintenance needs. The eco-friendly device reduces chlorine taste/odors, is self-cleaning and provides clean, delicious water from every faucet in the home and was featured in Design House 2005: The Green Home. Please visit www.lifesourcewater.com .
The Fashion House :
Licensee for designer Richard Tyler and Oscar de la Renta Footwear, www.thefashionhouseinc.com


Cat Apparel :
ALondon-based company, announced the launch of a lifestyle men's line for Fall 2005. The line from revered construction equipment company Caterpillar grew out of the trends emanating from the heartland, "middle America chic." The apparel which has been likened to Diesel and has already been well received by fans such as Ryan Seacrest and Ty Pennington, will be available at local malls and selective upscale boutiques. Continuing the foundation of pure values and cool gear is newly signed campaign spokesperson, Actor Mark McGraw (son of Baseball great Tug McGraw and brother of country superstar Tim McGraw.)